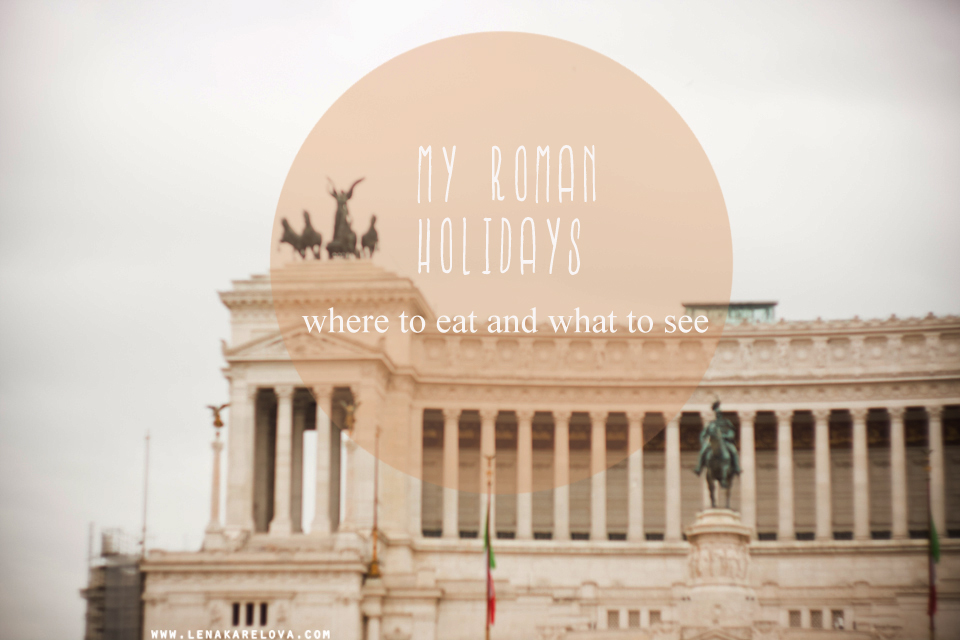 Before I start writing this post I realized that just one week and a half past since then..But I have a strong feeling that it was so long ago. Well, the perception is very peculiar sometimes. It was very intensive trip, especially I get it when my mom said "I don't wanna come back!". It was a kind of joke with a implicit note "Lena, please make it easier next time". Rome is very chaotic city, to tell the truth I saw another Rome 5 years ago. Maybe it was a good weather in october (it was raining almost every day this time)..I don't know, but something has changed. Only one thing remains as before – italian food ha ha ha. Obviously,I found new places I didn't have a chance to see previously. Visiting Roman Forum it was interesting to find a new spectacular excavation. It was a nice feeling to be back and pass by places you already know. Especially for me was a honor show it to my mother.
In the first place I would recommend you Roma Pass card, you can find in some touristic points. I have one in front of my hotel at Via Nazionale, 69. Why I strongly recommend it? Well, just becouse it will save your money and moreover – your time! You will remember me standing in the Colosseums' queue and then in Roman Forum. You can use it for more discounts and 3 metro rides.
Where to eat in Rome? As usual, before every trip I make a list of places, looking for some local, typical and so on & so on. I used to read some culinary blogs or blogs of people who live at the place I go. So I found some places with good or even best reviews. And one of them is awesome, you know. I still remember their's homemade gnocchi.And I was so lucky to have a chance to live close to this restaurant. La Carbonara restaurant is my love.Note: from 1 p.m and as max up to 2:30 p.m the kitchen is open. It's almost everywhere. Maybe just central restaurants are opend all day. And if you wanna have a really good dinner at friday/saturday night – please make a reserve. They speak english, so no problem. Then a good choice could be a Cantina e Cucina restaurant, good food, service and location. In 3 minutes walking from Piazza Navona, about 15 minutes from Vatican city and in 10 minutes from Panteon or Campo di Fiori. And a special note for girls: Via del Governo Vecchio where the restaurant is located you can find interesting shops, as a young designers boutiques as vintage shops with some nice stuff.Don't miss it! You probably heard about good italian coffee, make a visit to Cafe Sant'Eustachio at the small and cozy square just in 2 minutes from Panteon. Perfect to start a day with a good cup of coffee and observe how the city is waking up. Mmmm, dolce vita! Oooh, I almost forget to mention the best gelato ever!Walking around the small squares or narrow roman streets you will see in every corner one Gelateria, especially if it's artiginale (it means they do it at the same place). But I, some of my friends and well, a lot of people choose gelateria GROM.Guys it's fantastic, really!Find it: Piazza Navona, 1; Via delle Maddalena,30A; Via dei Giubbonari,52 (Campo di Fiori)
For those who has a sweet tooth as I have, after visiting Campo Di Fiori at the Via Arco del Monte,98 go and try typical Sicilian sweets – cannoli with soft ricotta cheese. Amazing!
Finishing this speech I would like to mention one place that you could be interested as well. Especially if you want to take some italian food to your home. Eataly shop – 4 floors with a lot of goodies like cheese, wine, prosciutto, etc. It's quite far away from the city center but it worth to go so far.